Interview of the management board.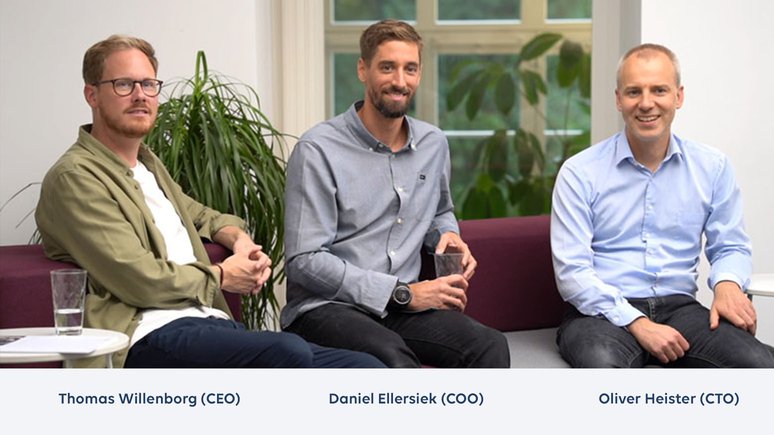 «Our role is to create a climate in which people can do the things they are good at.»
Charismatic, ultra-precise, and a Zen master – that is how the new Datatrans management triumvirate describe each other as they explain how they combine the company's long-standing values despite their different personalities. Daniel Ellersiek (COO), Oliver Heister (CTO) and Thomas Willenborg (CEO) talk about new ways of working, proven strategies and how to win trust in uncertain times.
You have been in post as the new Datatrans board of management since 1 October 2020. How does that feel?
Daniel Ellersiek: It's a fantastic challenge. I am proud of the fact that the Supervisory Board has placed its trust in us. The best thing, though, is knowing that the entire team is behind us. After all, we have all worked together to get where we are today.
Oliver Heister: It's not so much about the three of us than about everyone here. We're not in this job simply to tell the workforce what to do. Our role is to create a climate in which people can do the things they are good at. And at the same time, we have to protect them from anything that could hinder them in their work.
Thomas Willenborg: We see ourselves as their employees, rather than the other way around.
You have all been with Datatrans for many years. Have you never considered moving?
Oliver Heister: I've been here for 9 years but I've never got bored. When I started, the IT department employed just a handful of people. Building up that team was a really fun job. I never really thought about doing anything different.
Thomas Willenborg: My experience at Datatrans has been that every year has been more interesting than before, simply because I have been given the freedom to develop the way I want to. When you find a place with good development opportunities, you know you have it good. And when the team and the people are right too, well, that's perfect!
Are you going to be the new brooms that sweep everything clean and present a new Datatrans?
Daniel Ellersiek: We are building on the foundations laid in recent years. Of course there are some things we will do differently, introducing new initiatives. But in terms of the core essentials that have characterised Datatrans for 20 years, we're sticking to the same game plan. 
Thomas Willenborg: Datatrans values are something the three of us share: mutual trust, unconditional honesty and huge passion for what we do. But we will also remain objective, even if the discussions get heated sometimes! 
Oliver Heister: Datatrans has never really had a top-down leadership. What counts is whether or not something is a good idea. It doesn't matter who had that idea. So we're not sitting here with a long list of things that we can finally start to implement. No, quite the opposite: The past few years have been shaped by the ideas of the entire workforce. It has been a proven method that we will continue.
You clearly share common values. But otherwise you're all quite different. How would you describe each other in three words?
Daniel Ellersiek: Thomas is charismatic, visionary, and infectious. As for Oliver: Dictionary, ultra-precise, and safety-conscious.
Oliver Heister: Daniel is responsible, conscientious and organised. Thomas is open, funny and assertive.
Thomas Willenborg: Daniel is the Zen master. For Oliver, we have a phrase: "Oliver that!" instead of "Google that!" He knows absolutely everything.
 

The previous board described you as digital natives, praising your natural approach and openness to new technologies. How did you establish a career in payments? 
Thomas Willenborg: There isn't really a traditional career path into this sector. There is hardly anyone here who started out as a payment expert with us. The business, our merchants and swapping stories and ideas with the customers are what has turned them into experts. Coming up with ideas today about how people will make payments tomorrow, that is what makes the job so interesting for me.
Oliver Heister: I love the contrast: we look after small merchants that have sales of a few thousand Swiss francs as well as customers who turn over billions. And we talk to Apple, Google and Samsung about the future of payments.
Daniel: Our sector is highly innovative. More and more business is moving online. Retail, for example, has witnessed a massive boom thanks to the coronavirus. And payments are an essential process in these transactions. Designing and improving these processes to generate more sales for merchants are part of what makes the work so fascinating. Even though essentially we are selling an abstract product that is invisible to the outside world.
Take a leap into 2025. Where do you see yourselves and Datatrans?
Thomas Willenborg: We want to take the things that have made us stand out over the past 20 years, aspects such as personal service and individualisation of merchants through to the perfect payment process, and offer these to an even bigger customer base. Without compromising quality.  
Daniel Ellersiek: Specifically, we want to push ahead with automation in customer onboarding and support, to create added value for our customers. We want to be more data-driven in key account management, providing smart analysis tools. And we want to grow the workforce while also making sure that our people still feel part of a team in these times of working remotely, keeping the Datatrans spirit alive.  
Thomas Willenborg: It is difficult to foresee what the coming years will bring. Covid arrived completely out of the blue. We had anticipated cyber attacks, but not necessarily an offline virus that would bring everything to a halt. So now we have to give our customers even more support for online sales. We are constantly looking at where we can optimise our processes, improve sales and further reduce costs and risks.
Taking over control of a business during a global pandemic has surely not been an easy time. How do you deal with the lack of certainty in business and society right now? 
Oliver Heister: To start with we were uneasy about it too. That changed as soon as we realised that Covid was not just a threat, but also an opportunity. Digitalisation is accelerating at a rapid pace. Companies that had previously not given it a second thought were all of a sudden forced to look at e-commerce in order to be able to carry on selling. Nevertheless, the uncertainty has been a major challenge for our customers. 
How are you supporting them?
Thomas Willenborg: With most of our customers we have close partnerships that have developed over many years, so we can take a very individualised look at what will help them most. For example, if a customer wants to move into a new area of business, we can make that possible quickly and smoothly on our side. We are supporting other customers in bridging a difficult period until their business is up and running again. We are a tech company, but behind the technology are people and personalities who are in close contact with customers and looking for solutions together with them. We have a long-term approach. That is particularly important in a period in which nobody can predict what will happen in the short term.
Daniel Ellersiek: In dealing with Covid, two things have stood out for me: First of all, our team spirit has remained incredibly strong despite the move to working from home. Everyone has pulled their weight and continued to drive the company forwards. And second, our diverse range of customer situations has been a benefit. Some sectors have suffered, but others are selling more than ever. So overall, things have balanced out. Both of these aspects demonstrate the strength of Datatrans' foundations. 
Thomas Willenborg: For me there has been a pleasing outcome: it has shown that we can adapt quickly in times of crisis. Once again, we have been able to go back to the experiences of the company's founders. Especially when the business was starting out, when there was barely any e-commerce and nobody was interested in whether you could buy things online, Datatrans had to overcome a few crisis situations. As a result we are now able to take a more relaxed view of what is a difficult period today.
The second wave of Covid infections is causing businesses to reactivate home-working plans. It is no longer a big step for you though, as you introduced the "Anywhere Office" concept months ago. What has been your experience?
Daniel Ellersiek: Allowing staff to work where they are most productive has proven to be a winning strategy for us. It provides people with new levels of flexibility and demonstrates the value of placing your trust in your employees. The increased responsibility underlines once again the importance of every single staff member. 
Do you sense that your trust in the staff is reciprocated?
All: Definitely!
Thomas Willenborg: Our experience has gone hand in hand with the trend towards individualisation. Businesses are seeking to become more personal, and their employee relationships are part and parcel of that. Not everyone is equally productive all at the same time. In addition, recent months have stretched people to their limits in their private lives too. So they have naturally welcomed the flexibility. And the trust that we placed in them is now coming back to us.
Daniel Ellersiek: It was really good to see how our teams quickly started spending more time in the office again, because of the way they inspire each other. 
Your strong commitment and passion for your job is clear. But what do you do away from the office?
Daniel Ellersiek: I like to spend time with my family – I have two children. You can also find me on my bike or in the mountains. I am a keen skier and ski instructor.
Oliver Heister: My answer is 99.95% identical! The only difference is I am not a ski instructor. 
Thomas Willenborg: I enjoy discovering new towns and cities, as well as exploring the mountains in the fresh air. I love the fact that at Datatrans I can often combine work and pleasure. We can meet for a beer in the garden in the evening and talk about business and home at the same time. So many of our colleagues have become friends over the years.   
Thank you very much!