«Being able to hand over a healthy company is a nice feeling.»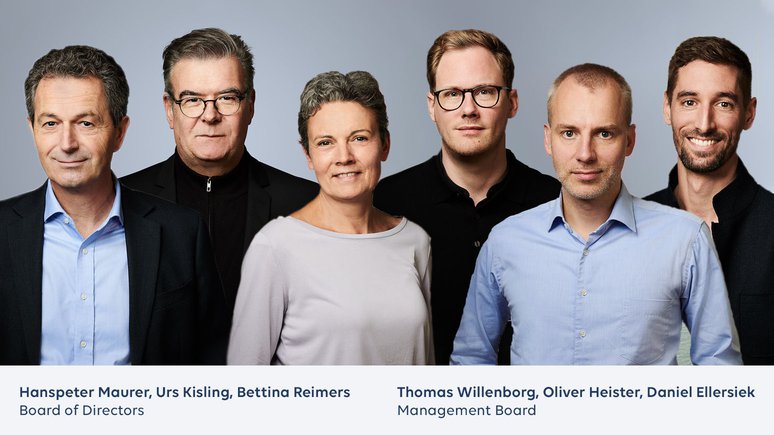 The Datatrans management team are taking a step back from its operations after almost 20 years and making way for the new generation.
After close to 20 exceptionally successful years in business, Datatrans AG is not just about to get new managers but is also being handed over to the second generation. The 36-year-old Thomas Willenborg takes over from Hanspeter Maurer as new CEO and together with Daniel Ellersiek (COO) and Oliver Heister (CTO) will form the Datatrans management team with effect from 1 October 2020. Hanspeter Maurer and Thomas Willenborg talked to us about differences between the  generations, new management styles and how we'll all be paying for things in 20 years' time.
Hanspeter, you have been building up and managing Datatrans for the past 19 years. Now, together with co-founders Bettina Reimers and Urs Kisling, you are taking something of a back seat with a move to the company's Supervisory Board. What will change for Datatrans customers and partners?
Hanspeter Maurer: Not very much. Thomas, Daniel and Oliver have been part of the extended management team for two years now and are already familiar faces. We want to give the younger generation even greater scope to make their own mark. At the same time, as members of the Supervisory Board, we will continue to work on strategic issues so that we can provide the necessary support in the background. Nothing changes in terms of our values either. That's something our customers can rely on.
How do you create trust in such a fast-moving digital business as yours?
Hanspeter Maurer: By demonstrating your expertise and regularly addressing relevant subjects. By drawing customers' attention to processes that are not yet optimised. By explaining to customers which developments would benefit them now. By showing them that you are acting in their interests. Trust is something that develops at different levels and every employee has a role to play. This means that we will have to consolidate our personal customer relationships even further in future.  
Everything is going digital and you are becoming more personal. Is that not a contradiction?
Hanspeter Maurer: No, quite the opposite. Building up long-term relationships with customers is more important than ever. Our customers really value the fact that we fully commit to supporting their future plans. The demands on them are growing too. So they have to be able to rely on us providing the right solution for their problems, not just today but also tomorrow. That can't work unless there is close personal contact. 
"The new managers are all digital natives. How we do business is in their DNA." 
Building up a business from scratch, seeing it grow successfully and then handing control over to a new generation – what does that feel like? 
Hanspeter Maurer: There's obviously an element of sadness. But after close to twenty years I don't think I'm the right person to lead the company now. The new generation are all digital natives. They know what we do inside out, and how we do business is in their DNA. They have our fullest confidence. To that extent, this change of management is also a huge relief for me, Bettina and Urs. But being able to hand over a healthy company after nineteen years is definitely a nice feeling.
Thomas, on 1 October 2020 you are set to take over from Hanspeter Maurer. How big are the shoes you have to fill? 
Thomas Willenborg: Hanspeter leaves huge shoes to fill . He is an unbelievably charismatic man and has become an important mentor to me over the last few years. He will be a very difficult act to follow. I first need to create my own mark and, at the same time, work with Oliver and Daniel to drive the company forward in the spirit of its founders. It's a bit like adopting a child who is already eighteen, who's had values instilled in them and who can stand on their own two feet. We don't need to build the company up, we need to focus on supporting it and on cleverly planning the next steps. 
"Our success over recent years has been a team effort."
Datatrans has posted a positive result every year. 2019 was actually its strongest year ever in terms of sales. How will the new management keep up with the pace set in earlier years?
Hanspeter Maurer: The new management team played a key role in generating that pace. Our success over recent years has been a team effort. It's been a long time since we dictated what happens next. And we wouldn't have wanted to either. Every part of the company should be able to make suggestions.
How do you manage to listen to everyone when you now have 50 staff?
Thomas Willenborg: t's certainly not as easy as in the beginning but every idea is still listened to and discussed. We are free in our decision-making as we still have no external investors. What links our employees is an incredible understanding of customer service and a desire to really achieve something. Datatrans has also always been dominated by a mentality of making sure that the customer is OK.
How did your colleagues react to the change of management?
Thomas Willenborg: That was what worried me the most. After all, many of our staff are now my close friends. But the reaction couldn't have been any better. They have been supportive and said they're pleased it's me! There's obviously been a bit of banter when we've been out for a drink. But that's exactly the kind of openness I want from my colleagues. No holding back, just straightforward communication.
"Anyone who wants to be a manager nowadays must be a team player first and foremost."
Traditional management methods are increasingly being called into question. How do you see the management style of the future?
Thomas Willenborg: Good management includes the opportunity to grow. If I, as the boss, cannot rise to new challenges, I am not going to be a good role model for my team. Otherwise, I think it's my job to clear any obstacles out of my staff's way so that they can do their job well. I am their colleague. Not the other way round. 
Hanspeter Maurer: I believe in a cooperative management style. One where every employee is given a level of responsibility to match his or her character and skills. A style where everyone can be fully invested and participate in the business success. Management is a team effort. A boss shouldn't give orders but should guide, coordinate, support and motivate. Anyone who wants to be manager  nowadays must be a team player first and foremost. 
Is your successor Thomas Willenborg a team player?
Hanspeter Maurer: Absolutely. Thomas is not afraid to be hands-on. He is a very open and cheerful person. People feel at ease around him. He is open about problems so that everyone can work on a solution. He is also hugely entrepreneurial in his mentality and is very passionate about what he does. That's what you need at the top. I couldn't imagine anyone better to take over from me.
What do Daniel Ellersiek and Oliver Heister bring to the management team?
Hanspeter Maurer: Oliver has huge technical expertise and is very conscientious. Daniel, with his very careful and structured approach, is the steadying influence. All three are unbelievably driven and together make the perfect team. They want to get things done. It is great to see their self-evident approach to technical issues and the ease with which they tackle them. They are already miles ahead of us in that regard. 
"We were always at our most creative when we had our competitors breathing down our necks." 
What else have you learnt from the young generation?
Hanspeter Maurer: They have taught us never to rest on our laurels. To never just say, "that's it, we've made it". And we were always at our most creative when we had our competitors breathing down our necks. We always had our best ideas when we just knew we had to come up with something special. The young ones pushed us on many occasions, asking to be allowed to make decisions so we didn't stand still. This drove Datatrans forward.
It sounds very harmonious. But hand on heart: surely six managers can't agree all the time. How are conflicts tackled, managed and resolved at Datatrans?
Hanspeter Maurer: You need to create an atmosphere where people feel that they can voice criticism. They need to know that their opinion will be listened to and taken seriously.
This all sounds perfect in theory. How do you implement it on a day-to-day basis?
Hanspeter Maurer: By avoiding being inflexible during discussions and being grateful for other people's perspectives. If someone else has a better idea, we say: "Thank goodness you thought of that. That takes us a step forward." In our meetings, we always allow for off-the-wall ideas. These have often resulted in new approaches that nobody had thought of before. But too much harmony can also be harmful. If everyone shares the same opinion we postpone the meeting and tackle the subject again another day once everyone has had time to really consider the issues at stake. 
Thomas Willenborg: As long as we talk on equal terms, we can have wonderful debates. Even among people with opposing views.
Twenty years ago, Datatrans was one of the first companies to make payments via the internet a reality. So how will we all be paying for things in 20 years' time? How long have credit cards, payment slips and payment service providers got left? 
Hanspeter Maurer: I think we will continue to move in the direction of biometric payment processes. You won't use a device to pay, your payment will be based on you as a person. How we make sure that personal data remains confidential will be one of the biggest challenges of the next few years. But from a purely technical perspective, anything is possible.
"In our current form, we won't be needed in 20 years' time".
Thomas Willenborg: Clearly, today's technology will be obsolete in 20 years' time. Although, progress will be held up slightly by our habits and beliefs as human beings. It will take more than a change of mentality for us to be able to walk out of a shop without having needed to physically pay because everything has been taken care of in the background. As long as some people still don't feel safe paying with contactless methods or simply by clicking a device, technology alone won't be the answer. At Datatrans, we will work to minimise these hurdles and optimise the payment processes of the future so that they feel secure and are simple for people to use. That's why I believe that we won't be needed in our current form in 20 years' time. 
How do you view the future of new payment methods such as wallets, IoT or crypto currencies?
Thomas Willenborg: Wallets have made our lives easier, and not just since the coronavirus crisis. New payment trends will benefit those who are receptive to them. Luckily, our home market, Switzerland, is very open to these new developments. 
What other skills and abilities will be needed in your sector in the future?
Thomas Willenborg: Trust and reliability. Reliability because the market and the world are constantly changing. New companies making new promises are springing up every day. Some disappear again as quickly as they emerged, unable to keep their promises. Others consolidate and become sluggish. We need safe havens, providers that we can rely on to provide what we expect. That's why we haven't lost any major customers over the past few years. We have not given them any reason to leave the safe haven that we provide.
"Nobody has better arguments than the customers who have been placing their trust in us for years now." 
And how do you win over new customers?
Hanspeter Maurer: Nobody has better arguments than the customers who have been placing their trust in us for years now. That's why I often advise potential customers to look up our references on our website. I give them the name and telephone number of someone at the relevant company who will be happy to share their experiences of working with us.
How far do you want to grow and how much can you grow over the next few years?
Thomas Willenborg: We were never a classic start-up that was permanently trying to go higher, faster, further. We have grown steadily and geared our strategy around our customers' success. Datatrans has always held a long-term view. We don't just help our customers at the start of their journey, we're there for the long haul. And we want to continue with this type of growth.
Thomas, if you could make a wish, what would you change?
Thomas Willenborg: Shorter routes to decisions and a better culture around mistakes.
"To be innovative you need the courage to try things out within a certain framework and to make manageable mistakes."
How do you make mistakes in your business without it having serious consequences?
Thomas Willenborg: Our culture is based on trust and reliability. Security for our customers will always come first. Yet to be innovative you need the courage to try things out within a certain framework and to make manageable mistakes. Facebook's motto used to be: "Move fast and break things". It became the mantra of many start-ups. In our business "breaking things" would signal the end. So we changed it a little to "Move fast and innovate – without breaking things", and have proved that it works. We were one of the first to launch a tokenisation solution, doing so in 2006, and are now one of the first companies in the world to tackle the new card scheme issues. And that's despite always being very cautious. The foundation stone for our motto was laid.
Thank you for talking to us.